Organisational integrity exists when an organisation operates in line with a set of clearly defined ethical values that are integrated into internal processes. The organisation ensures respect and visibility of these values by appropriate communication, leadership, strategies, policies, rules and control, accountability, and transparency.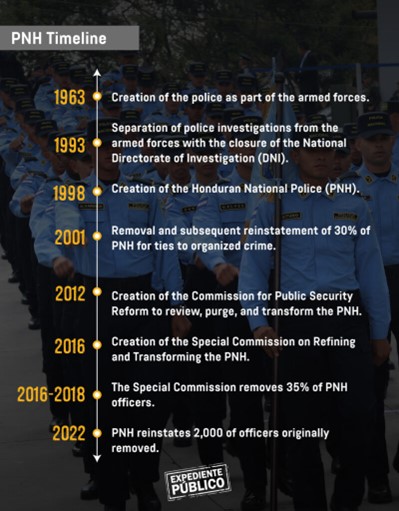 In Honduras, DCAF has been working with the Security Ministry police external control agency, the Directorate of Police Disciplinary Affairs (DIDADPOL), since 2019 to aid them in their role, created following the 'purge' of policing in 2016. DIDADPOL investigate police misconduct, offer recommendations on individual cases to the Security Minister and run police-wide prevention programmes to improve integrity.
The initial set up and transition for DIDADPOL was very difficult, as they were low on resources and inherited 1,760 cases to investigate immediately, whilst simultaneously creating new processes, systems and recruitment of staff to implement their role.
In 2019, DCAF and SDC assessed the role of the agency as being integral to improving integrity in Honduras, reducing corruption and improving confidence in policing. DCAF and DIDADPOL agreed to run a full diagnostic  focused on improving capacity and building a solid base for them as a platform for growth.
This diagnostic was run in collaboration with DIDADPOL's full participation, focused on several areas of their work and included 23 recommendations that would serve to increase and build capacity of the agency to fulfil its role and better understand its requirements.
These recommendations were intended to be overarching for DIDADPOL and not specifically for DCAF to implement. Indeed, the Director of DIDADPOL at the time used the diagnostic to negotiate support and funds from other donors and DCAF coordinated meetings with other donors to ensure that recommendations were supported and reduced duplication of donor resources.
 
Communications
DCAF immediately began collaborating with DIDADPOL on the creation of a strategic communication plan to enhance coordination, strategic and effective communication processes, and information management, identifying DIDADPOL's role in increasing confidence and integrity in the National Police.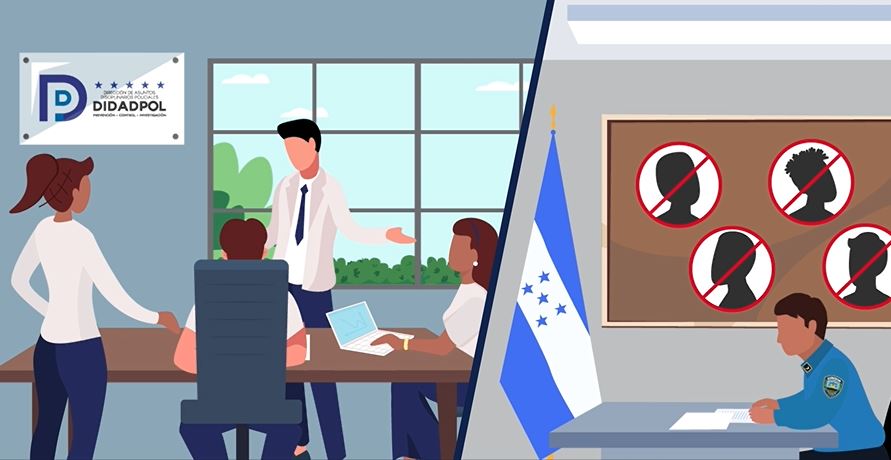 As part of technical advice, DCAF worked on reviewing and proposing legal reforms for DIDADPOL, examining relevant laws and regulations since April 2020. The results of this review were integral inputs to the development of the Institutional Strategic Plan (PEI) and knowledge products. The Strategic Communication Plan, designed jointly by DCAF and DIDADPOL, was completed, and DCAF provided support in its implementation through two campaigns targeting the external public to transfer knowledge to DIDADPOL, with lessons learned being collected for other knowledge products.
DCAF also designed and created seven animated videos for DIDADPOL, based on real cases, that showed examples of misconduct in policing and is still used as a training tool both internally and with new police recruits to improve integrity.
Human Resources
DCAF aided DIDADPOL in the construction of a new methodology to create job profiles, strengthening DIDADPOL's ability to recruit, manage performance, and train specialists required to fulfill their role. 
In the ongoing effort to strengthen external control capacities within the PNH, a theoretical-practical training was conducted for DIDADPOL called "Update Course on Disciplinary Investigation Techniques." This training, lasting 60 hours, involved 43 DIDADPOL officials from Tegucigalpa and San Pedro Sula, specifically from the Legal, Investigations, and Complaint Reception areas. 
All staff were also trained by DCAF on Gender Equity and Human Rights, as well as giving support to DIDADPOL's Human Resources department directly via the creation of a methodology to create job profiles and assistance in recruitment practices.
Processes
In support of strategic strengthening of external controls within the PNH, DCAF assisted DIDADPOL in process mapping to outline their current processes and offer recommendations to improve operational efficiency, graphically defining real processes arising from the institution's operations.
Strategic Planning
In 2022, as a follow-up to the 2019 diagnosis, the Interim Director of DIDADPOL requested a progress report on the implementation of the recommendations. The result of the Progress Monitoring Report shows that DIDADPOL has achieved significant advances, fully complying with 17.4% of the recommendations and showing 47.8% in progress. These results reflect the institution's commitment to strengthening its processes and practices, as well as its willingness to improve its performance as a control agency, largely driven by the program and its coordinated actions.
Results

As a result of this collaboration between DCAF and DIDADPOL, the Communication Strategy was approved and implemented and continues to be the guiding document for all communications within DIDADPOL. Further, the Head of Comms for DIDADPOL recently carried out training to another part of the Security Ministry, incorporating learning from the work previously carried out with DCAF.
Following the gender training that included 100% of DIDADPOL staff, a new unit was created, that of the Human Rights and Gender Unit. A part of the DCAF training went further and carried out intensive training for four DIDADPOL staff, intended to be gender 'champions' for the organisation. This Unit and these four champions will be carrying out the DCAF Gender Self-Assessment on DIDAPOL in 2023, the first time that this has been implemented on an external control agency. 
DIDADPOL now has a full staff contingent of 100 people, across two bases in the two main cities of Honduras and has had budgetary increases which has stabilised the organisation.
The authorities of DIDADPOL have expressed willingness to continue receiving this specialised advice and support from DCAF on specific issues, such as co-designing anti-discrimination and gender policies. Likewise, support has been provided to the DIDADPOL leadership in designing and implementing specialised training plans for different areas of the organisation, focusing on topics like Use of Force, accompanied by a monitoring and evaluation strategy.