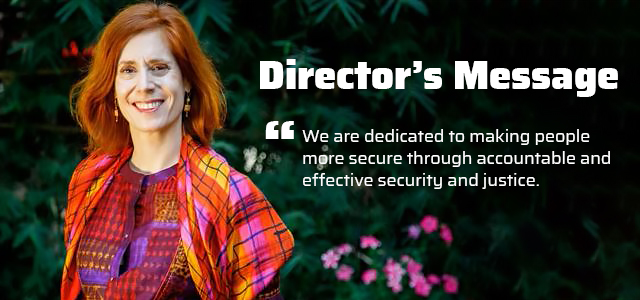 I am thrilled to be taking the lead of an organization with the vision of a world in which security is provided by actors that are dedicated to improving the safety of people and states and act in line with the principles of good governance, respect, and protection of human rights for all, and promotion of gender equality. Accountable, transparent, and effective security sector governance is a decisive contributor to peace and sustainable development. DCAF, with its global reputation for impartiality and excellence, has helped make that a reality in more than 80 countries since its inception in 2000 and aims at continuing to make a solid and sustainable contribution. 
As I step into this role, I am acutely aware of the opportunities and challenges faced by our partners and donors in many countries around the world. People, communities, and states are recovering from the profound impact of COVID-19, grappling with climate change and its effects, and facing many obstacles on the path to peace and security, especially in fragile and conflict-affected states. War has returned to Europe with its impact reverberating all over the world. There is much work to be done and the role of DCAF is perhaps more important than ever. 
I would like to thank DCAF's governing Foundation Bureau and Council for their confidence, and our many generous donors who make DCAF's work possible. Special thanks go to our core funders: Switzerland and Liechtenstein, whose trust enables us to innovate, evolve, adapt, and contribute to a better future. 
Finally, I would like to express how honored I am to work with DCAF's staff in Geneva and our offices around the world. Their tireless work and commitment have made DCAF what it is today and I am proud to join the team at this crucial time. 
Ambassador Nathalie Chuard
Director, DCAF