Today marks World Press Freedom Day, an annual reminder that an independent, free media must be protected and preserved as a cornerstone of democracy. More than two decades of experience supporting security sector reform initiatives around the world has shown that a free and fair media also plays a vital role in the success of SSG/R efforts. Credible and timely information about security provision, public safety, and national defense is essential to ensure that police officers, soldiers, and other security and justice actors fulfill their roles with respect for the rule of law and human rights.
A RELATIONSHIP FRAUGHT WITH TENSION
Journalists and the security sector both perform essential public services, yet their aims - and how they work – regularly put them at odds. Like many institutions, security services prefer to operate behind closed doors— driven in part by the need to prevent information getting into the hands of potential enemies. The media, on the other hand, demands information and accountability, especially in cases where institutions as powerful and potentially dangerous as security services are suspected of acting in secrecy. Revealing and documenting abuse and corruption by security sector officials, often with the intent to create conditions for political change, is among the most useful and dangerous work a journalist can do. Not surprisingly, this watchdog role engenders hostility and journalists regularly encounter obstacles and challenges while doing their jobs, including, in the worst cases, violence and human rights violations.
The ability of journalists to report independently and accurately is integral to maintaining an effective, accountable, and democratically controlled security sector.
Acts of hostility towards the media put a chill on reporting that leads to less effective oversight and a climate where security forces have the potential to act with impunity. On the other hand, poor quality reporting on security sector issues erodes public trust in these important institutions and the government, which can fuel social unrest and instability.
BUILDING A BETTER UNDERSTANDING OF THE ISSUES, AND EACH OTHER
As part of a holistic approach to security sector governance and reform, we aim to foster constructive relationships of mutual respect and understanding between journalists and security sector actors. This is especially important in fragile or conflict-affected places where confidence in the security sector has already been eroded by internal conflict or widespread violations of human rights. It's not easy. It requires that each side put aside their biases and strive to understand the valuable role and interests of the other.
Journalists must develop a solid understanding of the complex process of security sector reform and how to report on issues of governance fairly and accurately. And the security sector must understand how the 'fourth estate' is working on behalf of citizens' demands for accountability and access to information. In the long run, done right, a mutually respectful working relationship contributes to the legitimacy of governments, trust in the security sector, and sustainable democratic institutions.

CHECK THESE RESOURCES FOR MORE ON THE MEDIA AND SSG/R: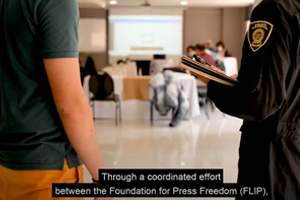 WATCH: Programme on media and security in Colombia
With the support of the Federal Republic of Germany, we are helping to strengthen the ability of journalists to do their critical role of oversight of public authorities, including the security sector in Colombia. We do this through the promotion of the rights to freedom of expression and access to information, and by helping to build mutual understanding between journalists and members of the National Police. In Spanish with English subtitles.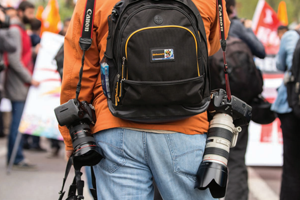 READ: Toolkit for security sector reporting: media, journalism and security sector reform
This toolkit is the result of extensive research and interviews with journalists around the world. It provides practical guidance for best practices for reporting on the security and justice institutions that are central to democratic societies: courts, police, the army, intelligence services, prisons, parliaments, executive management authorities and civil society. It helps to foster media professionalism and greater understanding and conflict sensitivity, as well as aiming to improve relations between the media and the security sector. Available in English, Arabic, and Portuguese.
If you don't have time to read the full Toolkit, you'll also find on the same page a series of Tip Sheets for journalists on key issues in security sector reform.




Photo: Peter Muhly
READ: News media and security sector reform: reporters on telling the story
In this timeless series of essays, journalists and analysts examine the role of the media and its effectiveness in security sector reform and governance in the context of conflicts in Northern Ireland, Turkey, Mexico, and others.