The International Day of Parliamentarism is a good time to highlight the crucial role that parliaments play in maintaining well-governed security sector institutions - police, armed forces, intelligence, and justice.
As democratically elected leaders, parliamentarians are responsible for ensuring that this highly complex sector is held accountable to the population it serves and acts according to the rule of law and with respect for human rights and gender equality. They do this in several ways, such as:
creating laws and regulations for security provision, management, and oversight that are compatible with international law, norms, and standards, including the protection of human rights and gender equality.
influencing the development of security policies and practices to ensure that they meet the security needs and concerns of all citizens.
scrutinizing budgets and spending to ensure that public funds are used wisely
providing a broad representation of public opinion to ensure the security needs of all are considered, especially those who are frequently underrepresented such as women and ethnic minorities.

Photo by DAVID ILIFF. License: CC BY-SA 3.0
The principles of good governance are accountability, transparency, rule of law, participation, responsiveness, effectiveness, and efficiency - the gold standards for how the security sector should function in a democracy.
If parliamentarians are not able to scrutinize and challenge the security sector, it can increase the risk of abuse of power and corruption and contribute to a lack of confidence and trust by the population in the government. This, in turn, can fuel internal conflict and dissension that can destabilize a country.
EVERY PARLIAMENT IS DIFFERENT
There is no one-size-fits-all approach to establishing effective parliamentary oversight. Each country is different, and reforms must be tailored to the local context. DCAF produces research and provides advice and guidance to parliaments around the world to help them design and implement reform processes that result in legal frameworks that effectively govern the security sector, and lawmakers that are skilled in overseeing them.
LEARN MORE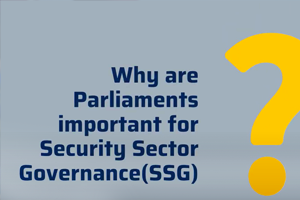 WATCH - Parliaments' contribution to Security Sector Governance
A short video for beginner summarizing the five key contributions of the parliaments.
French version available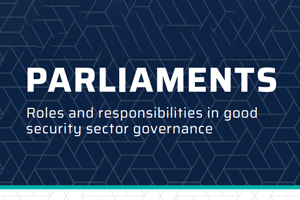 READ - SSR Backgrounder "Parliaments: Roles and responsibilities in good security sector governance"
This beginner's guide explains how parliaments can apply the principles of good governance to the security sector.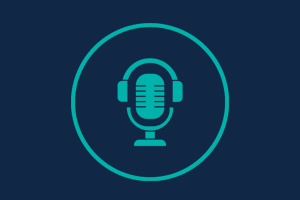 LISTEN - SDG 16, Security sector governance, and the role of parliaments in times of crisis
The authors of our SSR Paper on SDG16 and SSG/R discuss the challenges posed by the COVID-19 for parliaments and how the pandemic hindered oversight of the security sector and affected the rule of law.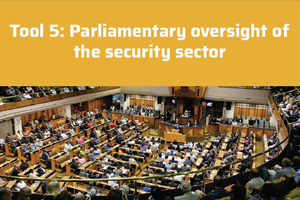 READ - Parliamentary oversight of the security sector in the West African context
This tool is part of our Toolkit for Security Sector Reform and Governance in West Africa which was produced to support the Economic Community of West African States (ECOWAS) regional regulatory framework for SSR/SSG through practical advice and guidance tailored to the West African context and based on regional experiences.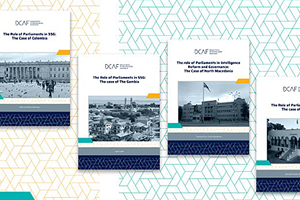 LEARN - Comparative studies and other resources for parliamentarians
A range of studies and other knowledge products identifying good practices for the role of parliaments in ensuring accountability in the security sector.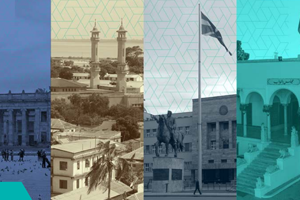 READ - Strengthening the role of Parliament in SSG: challenges and opportunities from selected case studies
This publication gathers observations and lessons drawn from specific country cases: Colombia, The Gambia, North Macedonia, and Tunisia.