Ninety-five percent of cybersecurity breaches are caused by human error. Last year that meant some 22 billion records were exposed by data breaches, with harmful consequences on personal lives and the smooth running of businesses and institutions (World Economic Forum and Risked Based Security).
The first step to prevention is to be aware of the risks and learn how to avoid them. For ten years, #CyberSecMonth has offered a full range of tools and resources to do so. Each year in October, hundreds of activities take place across Europe to promote digital security and cyber hygiene, including conferences, workshops, training, and more.
"Cybersecurity is one of the first policy areas to challenge traditional governance structures and policymaking … from defence and foreign affairs, to education and finance."
Dr. Tadas Jakštas , Cyber Security Consultant, author of DCAF's Booklets for National Cybersecurity Institutions
DCAF works with national and regional stakeholders towards this objective, starting with good governance and its legal, policy, and cooperation dimensions. From this, we help build the key skills of parliamentarians, public officials, Computer Emergency Response Teams (CERTs), researchers and civil society leaders — both those well-established in their fields, and those emerging as leaders. In doing so, we help bring them together to exchange ideas and good practices, and to develop relationships across countries and regions, and areas of expertise.
AN EVER-GROWING PRIORITY
Security sector institutions are increasingly dependent on information and communication technologies (ICTs) to carry out their mandates. Many of them have significantly increased their capacity to acquire, store, and act on data gathered through surveillance, drones, and artificial intelligence.
In general, legislation and accountability mechanisms related to these technologies are still greatly underdeveloped. Such mechanisms will however be vital if digital technologies should serve the people in a way that is governed by principles of democratic control, rule of law, and respect for human rights.
Applying standard principles of good governance to cybersecurity means national policies and practices are responsive to the needs of citizens, inclusive, and accountable. Our work aims to build the capacity of security sector partners to abide by these principles when it comes to the use of ICTs, as enshrined in the policies of the United Nations, European Union, and African Union.
This #CyberSecMonth, we'll be sharing resources and knowledge tools related to the reform and governance of cybersecurity. Meanwhile, the below resources will give you an overview of the importance of cybersecurity in the security sector.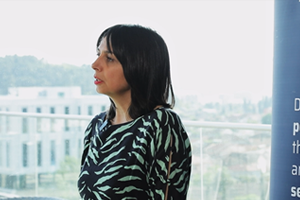 WATCH: Cybersecurity videos
Quick and easy access to cybersecurity resources: information on cyber hygiene and cyber risks, observations of cybersecurity experts in the Western Balkans, recordings of past webinars on cybersecurity governance, and more.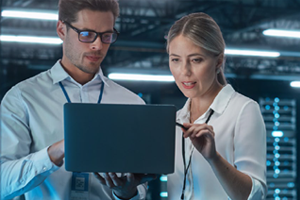 READ: Gender Equality, cybersecurity, and security sector governance
"Effectiveness in cybersecurity governance cannot be achieved without understanding that both cybersecurity threats and policy frameworks affect genders in different ways."
This paper explains how an approach to cybersecurity that focuses on principles of good governance can ensure gender equality. It shares insights and key findings of three cybersecurity experts, Katharine Millar, James Shires, and Tatiana Tropina.
A podcast series on this topic is available on the DCAF Spotify channel
Listen to the first episode: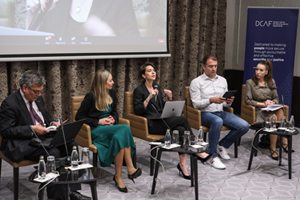 VISIT: Cybersecurity governance page
Learn more about our work enhancing cybersecurity legislation and helping to build the capacity of individuals and institutions such as government ministries, law makers, and civil society organizations, and national CERTs in the Western Balkans.
"By participating in various activities organized by DCAF, the National CERT had the opportunity to improve business processes, but human capacities as well, which are part of the excellent results achieved."
Jovan Milosavljevic Head of Cyber Security Division National CERT Serbia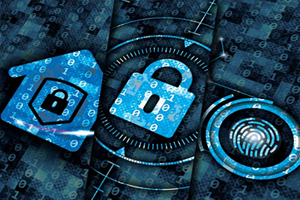 READ: Booklets on National Cybersecurity Institutions
Real world examples of frameworks and insights for public and private sector stakeholders who lead key institutions that underpin a country's cybersecurity institutional architecture.

VISIT: Preparing tomorrow's leaders of cybersecurity
DCAF's annual initiative, Young Faces, brings together dynamic, forward-thinking young people aspiring to improve their knowledge in a particular area of security. Follow them on their journey to the European Dialogue on Internet Governance in Italy.
Registration for next year will open at the end of 2022. For more information please contact us at: cybersecurityeca@dcaf.ch or stay tuned on our website and Twitter for announcements of next year's application.
"I wanted to be part of DCAF Young Faces because of the many violations of digital rights in my region that are considered minor crimes or even sometimes not considered a crime at all."
Oliver Risteski,Young Faces participant
Follow us on Twitter and LinkedIn for more resources throughout #CyberSecMonth.