Sorcha MacLeod's day-to-day life is far from the typical image of an academic. MacLeod wears a number of hats that allow her to play an important role in shaping the policies of tomorrow.
She divides her time between research, teaching, and funding applications as an associate professor at the University of Copenhagen, where she recently completed a three-year research project RESpECT funded by the European Commission on private security and human rights, and as a member of the UN Working Group on the Use of Mercenaries.
She is also involved in the development of international frameworks such as the UN Inter-governmental Working Group on PMSC and the International Code of Conduct Association.
MAKING HER MARK ONE STEP AT A TIME
She began by studying law as an undergraduate and then human rights and the exploitation of natural resources at Master level. To further her knowledge, she participated in summer schools such the ICRC course on international humanitarian law.
As an early career researcher at the University of Sheffield she was invited to join the EU project Priv-War on the regulation of private military and security companies that was a turning point in her career as it made her part of the international community.
Back in 2009, in the aftermath of the Iraq and Afghanistan wars, this project was groundbreaking. The international community was just beginning to consider how to regulate private military and security actors.
MacLeod remembers facing the security sector's disinterest and resistance to the business and human rights agenda, especially as a young academic. At the time, the UN Guiding Principles on Business and Human Rights did not yet exist, making her efforts even more difficult.
Fortunately, a shift happened a few years after the creation of the Montreux Document in 2008 and the ICOCA in 2013. MacLeod was an original contributor to these frameworks and continues to offer her expertise on private actors' responsibilities in ensuring the protection of human rights.
Today, they are both recognized regulatory frameworks contributing to the concrete integration of human rights elements into private security rules and regulations.
While the shift is a success, it is not enough. Too many actors are not yet members of these international frameworks, and states have a long way to go to ensure that they regulate properly at both the international and national levels.
Increasing the uptake of these regulations is a source of motivation for MacLeod, who has been up for the challenge for many years. She seizes every opportunity to make a real difference, prevent human rights and environmental abuses, address violations and hold actors accountable.
FOCUS ON PRIVATE MILITARY COMPANIES AND MERCENARIES AND ITS INTERSECTIONAL APPROACH
As a member of the UN Working Group on the Use of Mercenaries, she pushed for an intersectional approach to highlight the different impacts mercenaries have on people on the ground because of their gender, age, sexuality, race, disability, or other factors.
When she was interviewed for the United Nations' Special Procedures mandate, she said gender would be her top priority, and she has pushed for it throughout her mandate. Now she can proudly see that the working group's report on gender is being cited and used by States to set their priorities.
She always leverages the capacity of academics to influence and support new policies. Her work, and the work of academics in general, is helping to point the way forward and consider the full spectrum and evolution of the private security actors.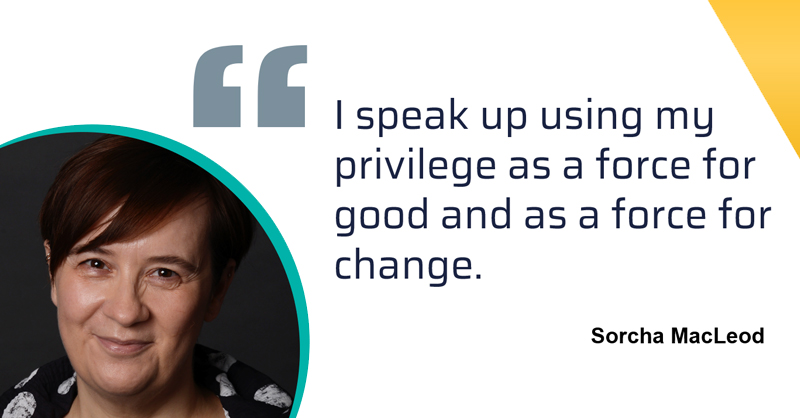 Photo: United Nations Human Rights special procedures
In the case of the UN Working Group on the Use of Mercenaries, that spectrum is very broad. States disagree on the definition of private military and security companies, and what constitutes direct participation in hostilities, as well as the ethics of outsourcing security to the private sector.
MacLeod's human rights background allows her to see the crucial position of these actors, who are authorized to use force due to their role, as a specific type of potential human rights violators.
She says it is important to see them as part of a spectrum: they operate not only in armed conflict, but in a variety of different situations. Policies and frameworks need to respond to these complex needs.
That is why "it is so important to get an international instrument that states can agree on, because there's a huge regulatory gap," says MacLeod.
And it is why the intersectional approach to these regulations is so fundamental: it considers people who are the most vulnerable to and affected by mercenaries or private military and security companies.
In her hands-on research, she has visited people in migrant centers who had encountered mercenaries and related actors on their way out of conflict zones. They shared their relief that someone cared and was trying to do something to help them.
This is what she focuses on in each of her projects or mandates: to shed light, to be a voice. "I speak up using my privilege as a force for good and as a force for change", says MacLeod.


A few tips from MacLeod for women who want to shape SSG/R:
• Get your qualifications.
• Take the opportunities that are presented to you.
• Don't be afraid to reach out and put yourself forward.
• Listen and ask a lot of questions.