Uruguay joins Ghana in setting an inspiring example for troop and police-contributing countries by releasing a report documenting the ability of its armed forces to ensure women's meaningful participation in peace operations. After the Zambia Police Service and the Ghanaian Armed Forces, the Uruguayan Armed Forces are the third security institution to complete a MOWIP (Measuring Opportunities for Women in Peace operations) assessment, analyzing both barriers and good practices for women's meaningful participation in peace operations.
GRAB YOUR COPY: the Uruguay Armed Forces MOWIP report is now available in Spanish and English.

COMMITTED TO THE INCLUSION OF WOMEN
Uruguay's potential and willingness to employ more women in peace operations is evident. In the last ten years, Uruguay has almost doubled the proportion of female military personnel deployed to peace operations, becoming the Latin American country that contributes the most women to UN peacekeeping missions.
The Uruguay MOWIP report identifies good practices that contribute to gender equality by addressing women's needs. These practices are directly applicable to other countries that send police and military personnel to peacekeeping operations. These good practices include:
Proactive recruitment of women to peace operations. SINOMAPA, the National System of Operations for the Maintenance of Peace in Uruguay, is specifically targeting women in the selection process of peace missions, which has led to an increase in the number of female deployments.
Vetting procedures. All staff that seek deployment are vetted by the Armed Forces to verify that they have not committed human rights violations or sexual exploitation and abuse.
Establishing lactation rooms in Armed Forces facilities and counting breastfeeding time as working hours, in line with national legislation.
No restriction on the nature of positions that women can fulfill, including combat positions.
Annual and continuous growth of the proportion of gender-trained personnel. In 2012, the Specialized Gender Commission of the Ministry of Defense was established with a mandate to organize gender-awareness workshops and training for both male and female personnel of the Armed Forces. In 2015, 232 officials received training, and in 2019 the Commission trained 3,560 officials.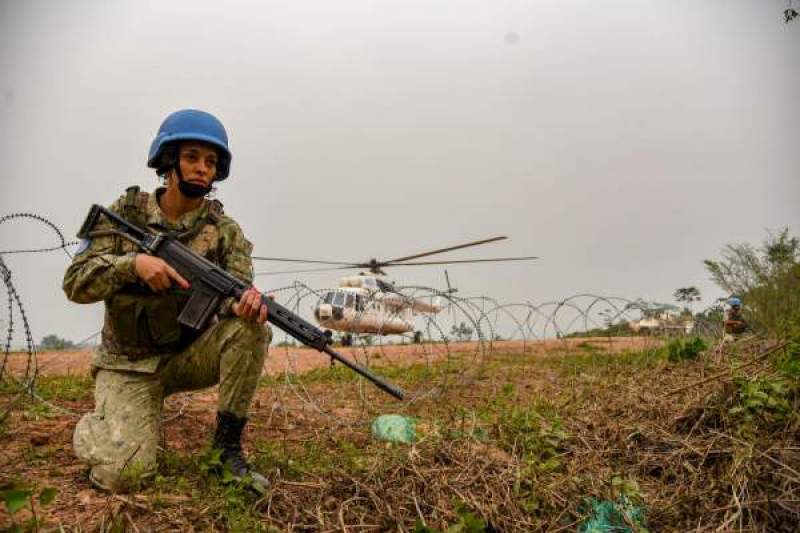 Uruguayan peacekeeper in the DRC, 2020. Photo: MONUSCO.
---
MOWIP RECOMMENDATIONS TO OVERCOME BARRIERS
MOWIP assessments help identify areas for improvement and make recommendations to overcome barriers to women's participation. The Uruguayan MOWIP report identifies some such steps to overcome existing barriers:
Strengthen support to women and men with family responsibilities before, during, and after deployment, by setting up support systems, such as economic subsidies for each dependent of deployed personnel, to help deployed personnel and their families.
Promote deployment opportunities for women by adopting updated policies including additional selection criteria considered important by personnel who have already been deployed in peace operations, such as communication and mediation, given that female personnel are more likely to have these competencies.
Ensure the promotion of women to leadership positions by presenting role models of women who have reached leadership positions.
Promote the integration of a gender perspective in all areas of work and thus contribute to a positive work environment in which all women and men can realize their potential.
Two more countries are expected to release MOWIP reports in 2021, contributing, like Uruguay, to an increase in women's meaningful participation in peace operations, and, ultimately, to advancing gender equality in the security sector.
Solène Brabant, Camille Risler and Olga Obolenets
SOLENE BRABANT is a Project Officer in DCAF's Gender and Security Division. Her work focuses on the integration of gender equality into security sector governance and reform through operational support to security institutions, training, and policy-oriented research. ************************************************************************************************************************ CAMILLE RISLER is a human rights lawyer currently working in the Gender and Security Division at DCAF. Her work focuses on women and peacekeeping, gender-based violence, and the links between climate change, gender, and security. ************************************************************************************************************************ OLGA OBOLENETS is a student in political science at the University of Chicago and an intern at DCAF's Gender and Security Division. Olga's prior internship experiences focused on the U.S. immigration law, helping victims of human rights abuses appeal to the ECHR, and helping political asylum seekers in Germany.