The Ghanaian Armed Forces (the GAF) has just released the assessment of its ability to deploy women to - and ensure their meaningful participation in - United Nations' peace operations. As one of the first three pilot countries to finalise a MOWIP assessment and share the results and recommendations – together with the Zambia Police Service and the Uruguay Armed Forces - the GAF are helping to raise the bar in the promotion of women's equality and taking concrete action to achieve it.
Ghana already ranks highly in terms of its participation in peacekeeping operations; out of all troop and police contributing countries (TPCCs) it is the 9th largest contributor, and the 3rd among African countries. It also stands out as having one of the highest proportions of women in its deployments, at around 15% of total personnel.
Fifteen percent is also the 2028 UN target for women in peacekeeping, meaning that GAF are already achieving the numerical goal for women's participation in missions. However, their MOWIP Report shows there remains the need for other barriers to be broken - barriers that are harder to account for in terms of numbers, but that are nonetheless at the heart of true change: bias in institutional culture and practices.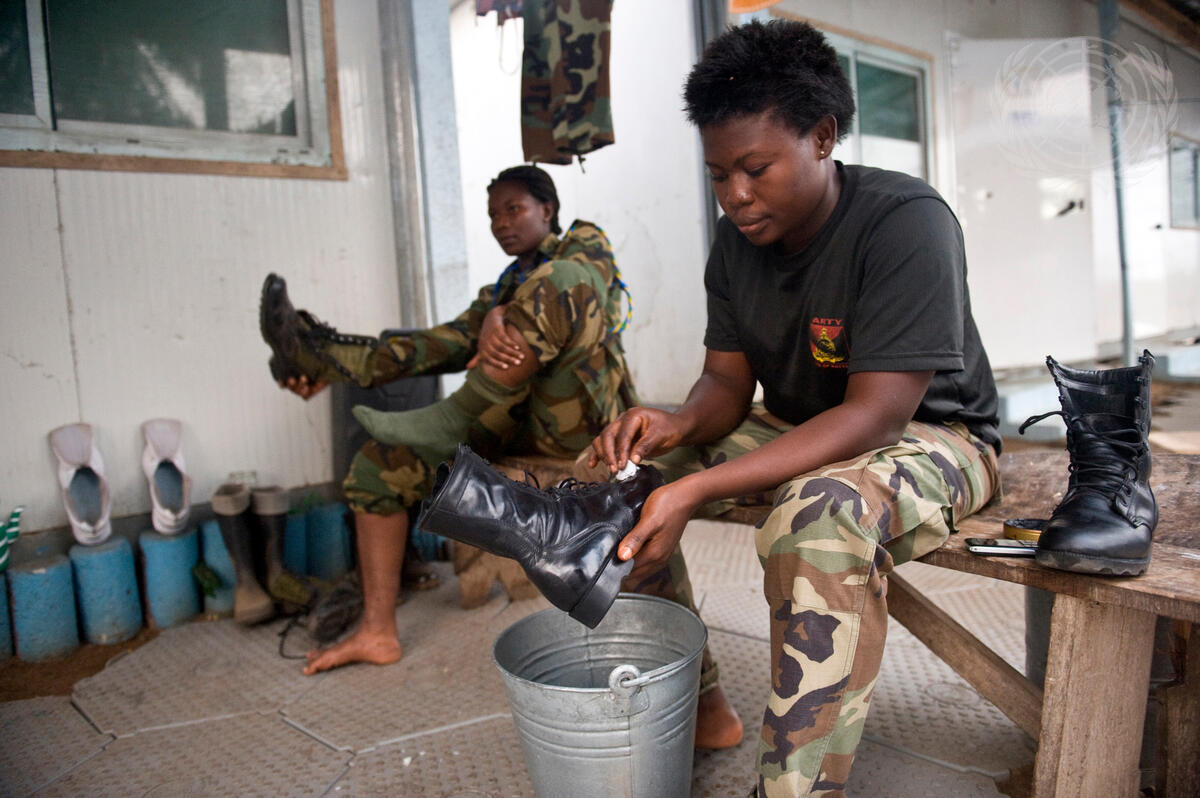 A Ghanaian woman peacekeeper polishes her army boots at the end of the workday. UN Photo/Christopher Herwig
WHO COOKS, WHO DRIVES, WHO PATROLS
The GAF's MOWIP Report finds that there are already existing practices that actively address harmful bias and gender stereotypes present in its institutional culture, while at the same time creating opportunities for women to have a greater impact in peacekeeping, for example:
Promoting cross-training that builds capacity and challenges gender stereotypes in peacekeeping: who cooks, who drives, who patrols. Ghana is subverting the long-held expectation that certain tasks are better formed by certain genders, focusing instead on the capacity and potential of uniformed personnel.
Providing uniformed personnel with subsidized home-based leave during their UN deployments, which challenges the perception that caregiving is incompatible with serving in a peace operation, and allows them to continue to perform their caregiving responsibilities back home.
As more and more countries face the demand to root out misconduct, harmful practices, and barriers to women in leadership, the lessons that Ghana will learn in addressing these issues in policy and practice will be invaluable. Moving forward, Ghana will need to address challenging barriers to women's participation identified in its courageous self-assessment. Namely:
Increasing the number of women serving in traditionally male dominated positions that have a high likelihood of deployment, e.g. combat roles; and,
Creating formal harassment prevention and response policies and mechanisms, that provide effective internal oversight.

LEADING BY EXAMPLE
The GAF can show other TPCCs how to target and eliminate barriers to gender equality by developing gender policies, procedures, and protocols - and taking concrete action to implement them. This will not only increase the eligible pool of women for UN deployments, but also has the potential to increase morale, improve retention, and ensure that roles are assigned based on merit, thus promoting effectiveness and efficiency in the GAF overall.
As more security sector institutions follow in the steps of pilot countries and begin to undergo their own self-review, using the MOWIP methodology to act, a key question arises: What do TPCCs need to do to move past numbers, and start focusing on transformational change?
DCAF will be asking – and answering - this question in our upcoming webinar with ODHIR and UN women. Join us on 26 May 2021 for Stop "Fixing" Women: why institutional transformation is key to women's participation in peace operations.
For more information and to register go to our events page.