For many countries on the path to development, the mining and oil industries present unparalleled opportunities for job creation and economic growth. This is the case in the Democratic Republic of the Congo, which is one of the world's most important producers of cobalt, copper, diamond, tantalum, tin, and gold.
In the DRC, the private security industry has expanded quickly to fulfill the need to protect these mining operations. Largely unregulated, operating in local communities but without effective public oversight, private security forces have gained a reputation for human rights abuses. This is not a problem in the DRC alone. There have been a number of high-profile cases that have highlighted the risk of human rights violations in countries where the industry has taken a central role in the security sector.
To address the problem of a lack of oversight and accountability in the industry, a group of governments, companies, and civil society organizations came together in 2000 to set up the Voluntary Principles Initiative on Security and Human Rights (VPI). This initiative promotes a set of guiding principles for companies to conduct their security operations while respecting human rights.
SUPPORTING THE DAY-TO-DAY PRACTICE
Since 2012, DCAF and the International Committee of the Red Cross have worked together to support the Voluntary Principle Initiative and turns its principles into day-to-day practice. Out of this partnership has come guidelines for companies and support to make them a reality through a multi-donor trust fund that DCAF set up in 2016 - the Security and Human Rights Implementation Mechanism (SHRIM).
The fund also supports national and local multi-stakeholder working groups which provide a ready platform where community members, local authorities, and companies can discuss issues, tackle problems as they arise, and come up with solutions that will be acceptable to all concerned. Since 2016, DCAF has supported working groups in Peru, Nigeria, as well as the Democratic Republic of Congo.
USING COMMUNICATION TO CREATE COOPERATION
In the Democratic Republic of Congo, mining companies, local authorities, and community groups who were not talking to each other in the past now meet regularly in the multi-stakeholder working groups. Together, they respond to challenges linked to the provision of security in the mining sector.
"Our collaboration with DCAF helped us to build a bridge between the voluntary principles, the security and the human rights, and the duty of care. This complementarity has proven to be useful for setting up a responsible minerals trade in South Kivu." Eric Kajemba, Founder and Director of Observatoire Gouvernance et Paix
This initiative has built confidence and increased trust, which, in turn, has allowed them to deal more effectively with problems as they arise. For example, in South Kivu, members of the army illegally entered one remote mining site and extorted money from artisanal miners. The working group proved critical as an early warning system that directly led to the withdrawal of the army, protecting the safety and livelihood of the miners and their families.
FROM TALKING TOGETHER, TO WORKING TOGETHER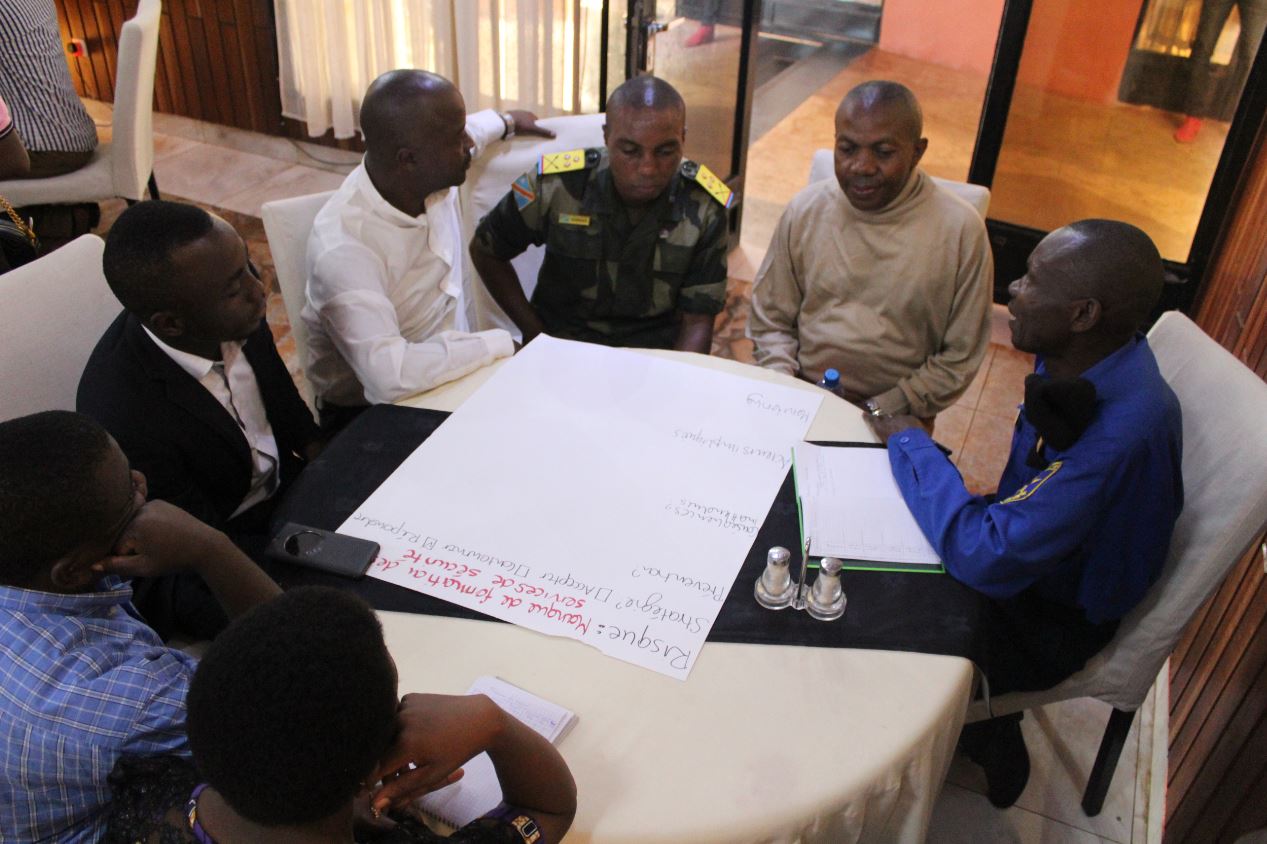 Another benefit of the working groups in South Kivu is the working relationships that they have created between civil society groups and private companies, as well as the military, police, and local civilian authorities.This is reflected in regular meetings, but also in joint missions on the field, aimed at fact-finding, sensitization and monitoring. The very fact that such joint missions are taking place shows a higher level of trust, and has helped to improve the current, and future, security situation in communities in South Kivu.