Join us at the Geneva Peace Week in Geneva.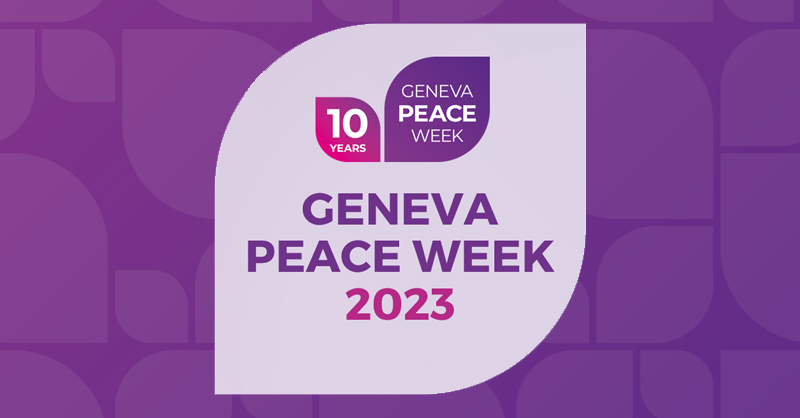 DCAF will be taking part in seven events:
Accountability and oversight in state responses to cyber-attacks: preparing for the future 
31 October
With IPU, and the Permanent Mission of The Netherlands to the United Nations 
This panel aims to understand how states and societies can improve their responses to cybersecurity attacks and prevent the breakdown of trust between security actors and the people. Members of the public are often kept in the dark as to the extent to which they are impacted by cybersecurity attacks on state infrastructure, leading to mistrust of security sector institutions. The panel will bring together cyber experts to discuss how to strengthen states' cybersecurity capacities in responding to cyberattacks in a transparent and accountable manner. On the occasion of the panel, DCAF will also launch a new publication on the impact of digitalization on SSG/R and a publication on the oversight of cybersecurity.
THE WAR AND PEACE REPORT 2023: ARMED CONFLICT AND PEACE PROCESSES IN 2023 
31 October
This panel will provide for a briefing and discussion on selected situations of armed conflicts and peace processes that have occurred or continue to take place during the year. It will include updates on the situations in Sudan and Ethiopia, Ukraine, as well as discussions on the current peace processes in Colombia and the Middle East.
Addressing contemporary challenges of private military and security companies and mercenaries in fragile contexts: the role of Geneva-based actors
31 October
With the University of Copenhagen
Current debates around private military and security companies and mercenaries often focus on individual actors such as the Wagner Group and create the impression that these actors are a new phenomenon. However, decades-long experience shows that actors are the expression of systemic challenges and those need to be addressed in a holistic way, drawing upon readily available norms, good practices, and tools. Only this will contribute to the construction of lasting peace in fragile contexts.
INFORMATION IN THE SAHEL: A STAKE IN PEACE? (IN FRENCH)
1 November
The aim of the panel is to mobilise political leaders, media players, and regional organizations to make an active commitment to media freedom and the fight against disinformation as an alternative that will bring about lasting change.
Promoting accountable security to address the climate crisis in the Amazon basin 
1 November
With Principles for Peace Foundation 
The discussion will shed light on the concept of accountable security and its relevance in addressing the multifaceted challenges faced by the Amazon region. It will unpack how accountable security can be strengthened as part of a peacebuilding strategy in contexts vulnerable to conflict due to the impact of the climate crisis and severe environmental degradation. The event will bring together security forces from Brazil and Colombia, indigenous women activists, Swiss Government, and DCAF representatives to provide concrete insight into how the security sector can more effectively work with communities to address climate and environment issues as part of broader efforts to prevent, manage, and mitigate conflicts.
Show me the meaning of… meaningful participation
1 November
With GICHD and Small Arms Survey
This event will unpack what is meant by meaningful participation when it comes to peace and security. Although 'meaningful participation' is a long-established concept, there is still a lack of clarity on what this actually entails and many efforts are still focused on counting women and ensuring that they are represented at the table in different humanitarian, development, and peace-related contexts. 

NAVIGATING THE NEW NORMAL: LEGITIMACY, ACCOUNTABLE SECURITY, AND PARTNERSHIPS IN PEACE 2.0
2 November
With Principles for Peace
This panel is a rallying call for all stakeholders who are serious about crafting a transformative, collective response to the peace and security crises of our times. Through a robust dialogue, we will unveil innovative approaches to partnerships and strategic choices in peace engagements that are not only effective but also equitable and deeply rooted in the contexts where they are deployed. We will reflect on cultivating legitimacy and how accountable security measures can offer a more sustainable alternative to traditional stabilization methods.