Part of Geneva Peace Week 2022, this session hosted by the Global Alliance of National Human Rights Institutions (GANHRI) and DCAF, will provide a platform for National Human Rights Institutions (NHRIs) from the Global South to share innovative practices, experiences, and stories on how their work has contributed to preventing, managing, and resolving conflict; to achieving the 2030 Agenda; and to strengthening cooperation between the human rights, sustainable development, security and peacebuilding sectors.
Speakers
- Catalina Crespo Sancho, National Ombudsperson of Costa Rica 
- Jacqueline Ann Cruz de Guia, Executive Director of the Commission on Human Rights of the Philippines (CHRP)
- Meri Kochlamazashvili, Senior Adviser to the Ombudsman of Georgia
- Lucas Kimanthi, Assistant Director, Reforms and Accountability, Kenya National Commission on Human Rights
To register for the event, click here
Download the speakers' bios and the detailed session's description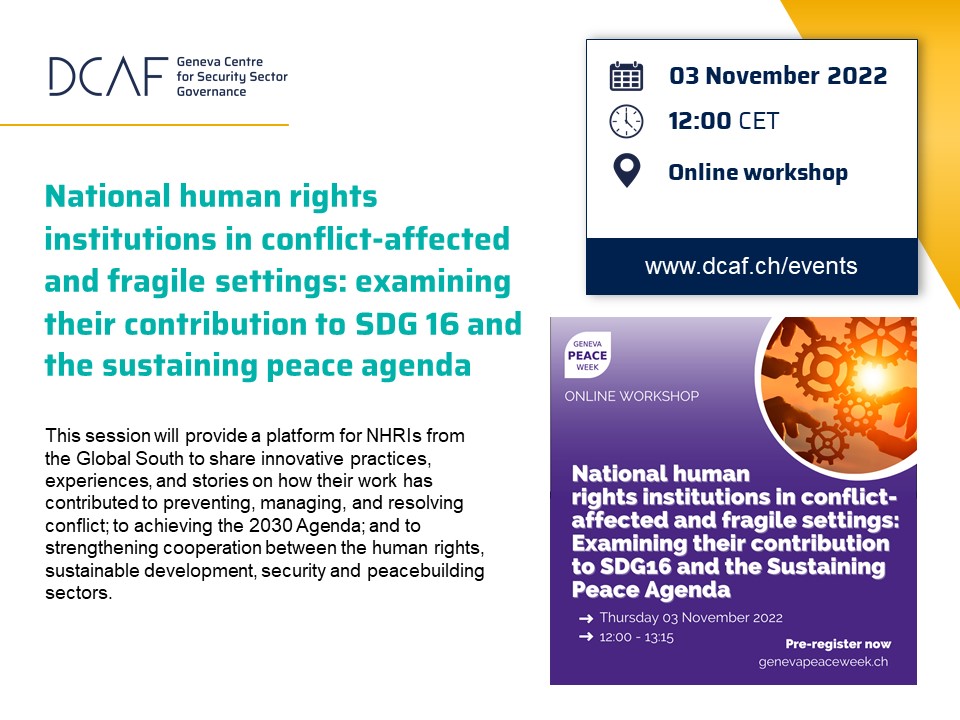 The Sustainable Development Goals (SDGs) are closely interlinked with human rights, with over 90% of the 169 SDG targets linked to international human rights instruments. National Human Rights Institutions (NHRIs), as independent institutions established by law to promote and protect human rights, advise governments, and hold them to account, are crucial actors of the institutional architecture to realise the SDGs, in particular SDG 16 on Peace, Justice and Strong Institutions.
Present in over 100 countries, NHRIs undertake systematic analysis of the human rights situation in their countries, issue reports and recommendations and advise governments and parliaments on human rights compliance. Some also handle complaints from citizens, thereby facilitating access to justice, redress, and remedy. Through these functions, NHRIs also play an important role in preventing the outbreak, continuation, and recurrence of conflicts, a role acknowledged in the Kyiv Declaration on the Role of National Human Rights Institutions in Conflict and Post-Conflict Situations. In doing so, by working to address the inequalities, exclusion and injustices that often drive conflict, they simultaneously contribute to the 2030 Agenda, SDG 16, and the Sustaining Peace Agenda. 
Within this context, NHRIs have a particularly important role to play with regard to oversight of the security sector. Security and justice institutions that operate fairly and in alignment with the rule of law are essential to preventing violence and sustaining peace. Despite this, there remains limited awareness amongst security as well as development actors of the importance of collaborating with each other and NHRIs to prevent, manage and resolve conflict.