This event is over. Watch the recording below or on our YouTube channel.
This webinar launches the report – A Global Review of the Development of Military GENAD Capabilities, drawing from interviews with current and former Gender Advisors (GENADs), who have served within or alongside military organisations across the world, and global experts on the development of gender equality within military organisations. This research was undertaken by Monash University and funded by the Australian Department of Defence.
Building on the findings of this research, this webinar explores the role and impact of GENADs and Gender Focal Points (GFPs) in military oganisations, as well as the challenges they face in fulfilling this role.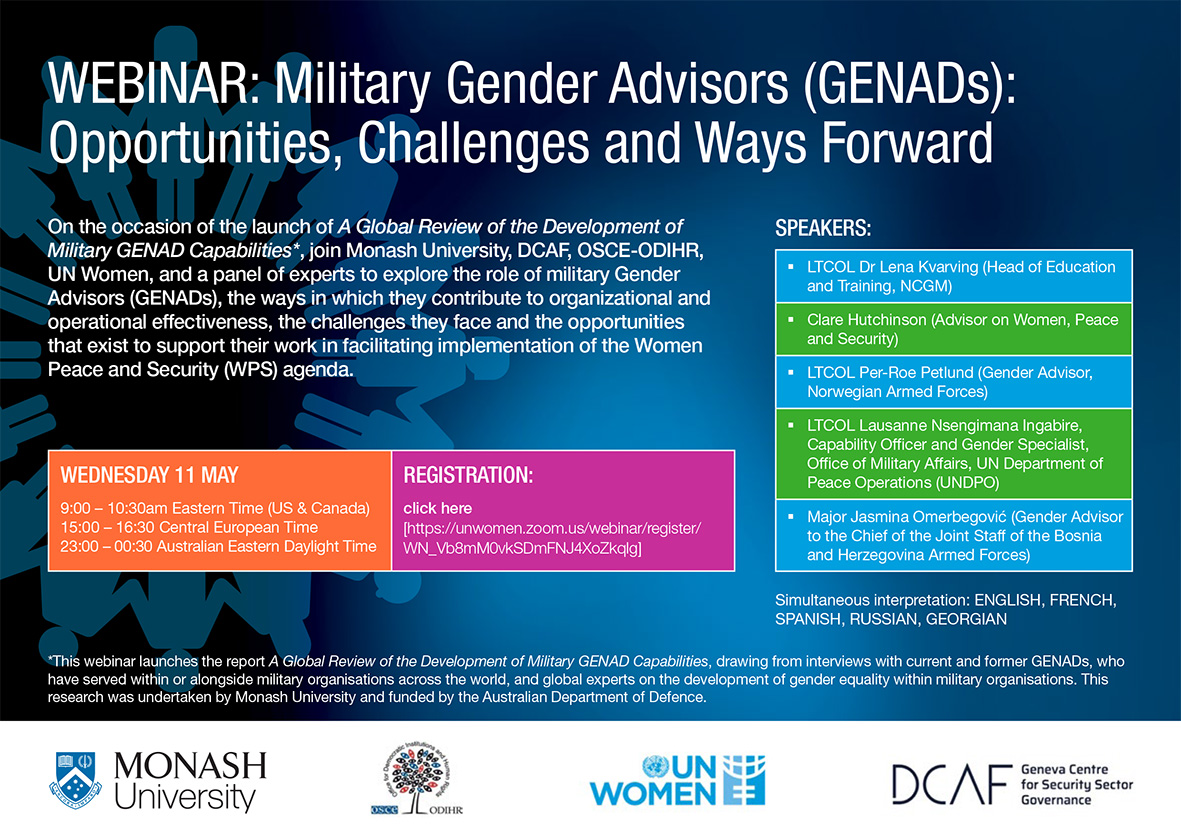 Join Monash University, UN Women, OSCE ODIHR, DCAF, and a panel of experts with experience working as or with GENADs and GFPs in military organisations. Hear about the findings and recommendations of the global review. Discuss with experts good practices, lessons learned and recommendations for improving the effectiveness of GENADs and GFPs and the military organisations they work in, advancing implementation of the WPS agenda, and contributing to building more gender equitable, sustainable and meaningful peace and security.
Event outline
After Monash University presents an overview of the A Global Review of the Development of Military GENAD Capabilities, panelists will respond to the following questions:
- Achievements: What are some of the achievements that have GENADs have attained, and how have they contributed to military organisations and operations?
- Challenges: What challenges do GENADs face in their work?
- Opportunities: What opportunities are present to enhance the impact of the work of the GENAD and advance implementation of the WPS Agenda? 
- Recommendations: How can the work of GENADs be facilitated (examples of good practice and lessons learned)?
 
Moderation
Dr Eleanor Gordon, Monash University 
Opening
- Dr Megan Bastick, DCAF 
- Dr Katrina Lee-Koo, Associate Professor of Politics and International Relations at Monash Unviersity and is the Deputy Director of Monash GPS (Monash University's Gender, Peace and Security Research Centre)
Panel
- Lt. Col Dr Lena Kvarving (Head of Education and Training, NCGM)
- Clare Hutchinson (Advisor on Women, Peace and Security)
- Per-Roe Petlund (Gender Advisor, Norwegian Armed Forces)
- Lt. Col Lausanne Nsengimana Ingabire, Capability Officer and Gender Specialist, Office of Military Affairs, UN Department of Peace Operations (UNDPO)
- Major Jasmina Omerbegović (Gender Advisor to the Chief of the Joint Staff of the Bosnia and Herzegovina Armed Forces) 
Languages: English, Spanish, French, Georgian, Russian    | Duration: 1.5 hours | Format: Zoom Webinar