Join us for the Launch of the Spanish version of the DCAF, OSCE-ODIHR and UN Women Gender and Security Toolkit. 
The Toolkit, newly available in Spanish, is an important resource to support Latin America and the Caribbean in achieving gender equality and  the goals of the Women, Peace and Security Agenda. It is a series of practical and policy guides to promote gender equality and integrate a gender perspective in the security and justice sector. It presents the latest good practice and lessons learned to support gender equality policy and programming in policing, defence, border management, oversight and other aspects of public security.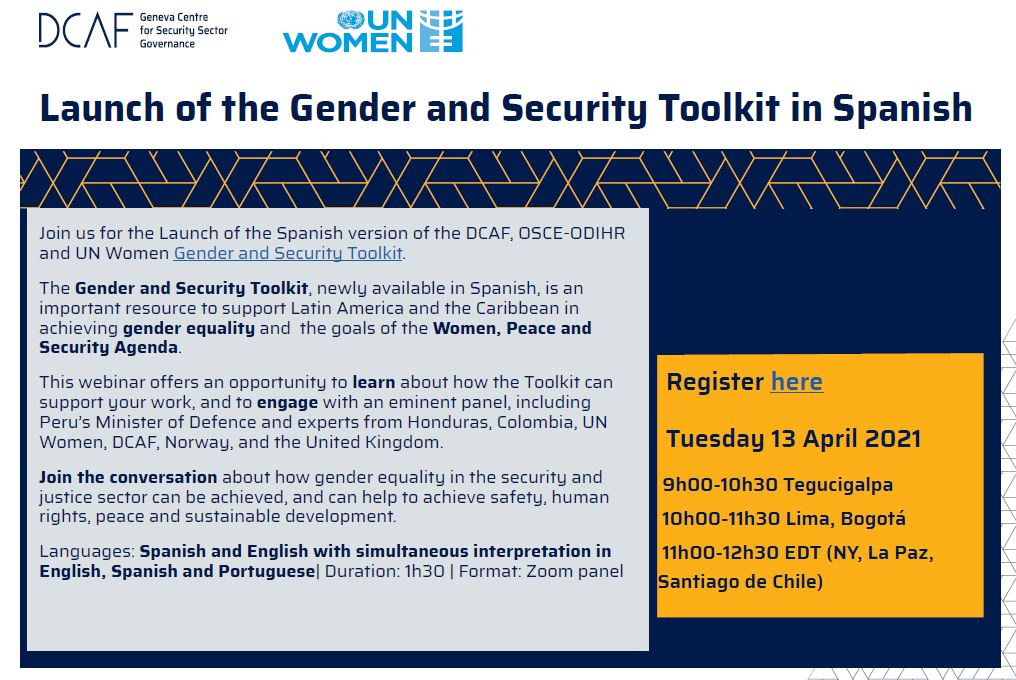 This webinar offers an opportunity to learn about how the Toolkit can support your work, and to engage with an eminent panel, including Peru's Minister of Defence and experts from Honduras, Colombia, UN Women, DCAF, Norway, and the United Kingdom. Join the conversation about how gender equality in the security and justice sector can be achieved, and can help to achieve safety, human rights, peace and sustainable development.
Time: 9h00 – 10h30 Tegucigalpa 
10h00 – 11h30 Lima, Bogotá, Mexico City, Panama
11h00 – 12h30 Eastern Daylight Time (New York, La Paz, Santiago de Chile) 
12h00 – 13h30 Brasilia, Buenos Aires
16h00 – 17h30 London
17h00 - 18h30 Central European Summer Time (Geneva)
Languages: Spanish and English with simultaneous interpretation in English, Spanish and Portuguese| Duration: 1h30 | Format: Zoom panel
This webinar is open to the public.
To register in advance for this virtual event, click here